CK Scaffolding System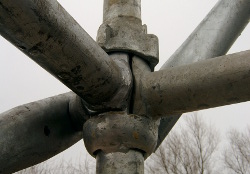 The CK Scaffolding System is easier, simpler and potentially quicker to assemble than regular scaffolding that uses tube and fittings. Orchard Hire and Sales Limited has been supplying CK Scaffolding System for twenty years. It is used by scaffolders on civil engineering projects, renovation works, and major housebuilding sites. It is also popular with self-builders because of its relative simplicity. It is a well-established system and long-lasting due to the galvanised finish.
The vertical elements of the scaffold connect together with integral spigots and rotating collars that clamp down onto the fixed 'cups'. The horizontal and diagonal elements of the scaffold have flanges at each end, which can be seated in the cups and then clamped in place with the rotating collars using a hammer. The whole structure sits on adjustable bases, which can be individually raised or lowered on uneven ground. The scaffold's lifts can be boarded out with standard scaffold boards, or with timber or steel battens when used with batten supports instead of ordinary transoms.
CK Scaffolding can be used to add an access staircase to a scaffold made of tube and fittings. CK System is manufactured using 48.3mm O.D. scaffolding tube, so is compatibile with regular scaffold tube and clamps. Its components are also compatible with SGB CUPLOK® components and the components of other generic systems that share its basic form, provided they are manufactured and tested to appropriate standards. CK scaffolding components are tested and certified in the UK by ISO9002 accredited testing centres to exceed British and European standards.

Standard
Vertical tubes in a scaffold.

| Length (vertical height excluding spigot) | Weight |
| --- | --- |
| 3.0m | 16.5kg |
| 2.0m | 11.2kg |
| 1.0m | 5.8kg |

Ledger / Transom
Horizontal tubes in a scaffold.
| Length (horizontal / centre to centre of adjoining standards) | Weight |
| --- | --- |
| 0.6m | 2.7kg |
| 0.8m | 3.5kg |
| 0.9m | 3.7kg |
| 1.3m | 4.9kg |
| 1.8m | 6.9kg |
| 2.5m | 9.5kg |
| 3.0m | 11.5kg |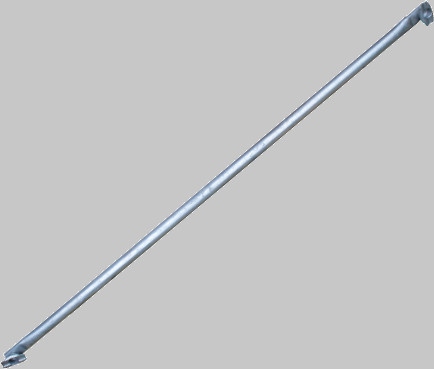 Swivel Face Brace
Braces the diagonal span of a bay on the face of the scaffold. Can be used as a staircase guardrail.
| Bay Length | Bay Height | Diagonal Span |
| --- | --- | --- |
| 1.8m | 1.5m | 2.396m |
| 1.8m | 2.0m | 2.744m |
| 2.5m | 1.5m | 2.969m |
| 2.5m | 2.0m | 3.255m |
| 3.0m | 2.0m | 3.655m |

Intermediate Transom
Board supports which have a hook at each end, allowing them to slot into place wherever required, ie. every 1.2m and 6" (about 15cm) from each end of every board.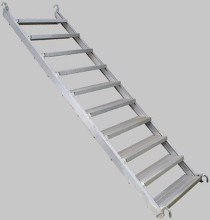 Aluminium Staircase
A drop-in staircase for CK scaffold stair-towers. Features rolled edges, non-slip treads, and a swing-over hook to lock the staircase in place. Components are bolted together, meaning there aren't welds to crack. Many of the parts are replaceable on site, although in practice, damage is uncommon due to the robust design. BS EN 12811-1:2003. Made in Britain.
| Lift Height | Horizontal Span | Steps | Staircase Width |
| --- | --- | --- | --- |
| 1.5m | 1.8m | 8 | 0.9m |
| 2.0m | 1.8m | 10 | 0.9m |

Stairtower Landing Platform
One piece drop-in galvanised steel mesh platform with guardrail post holes.

Guardrail Post
The 1.0m upright post in a stairtower where the guardrails attach to provide edge protection. Although the guard-rail post looks similar to a 1.0m CK standard, the cups are actually inverted so the spigot points down and can be seated in the post-hole on the landing platform.