Scaffolding Tubes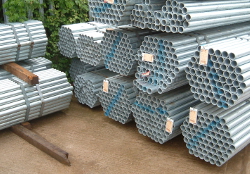 Orchard Hire and Sales have 48.3mm outside diameter (O.D.) steel and aluminium scaffolding tube for sale and hire. We also stock smaller and larger gauges of galvanised steel tube for other uses, such as railings.

Stocked sizes of tube are usually available for immediate collection, although it is worth calling in advance to double check availability. For non-stock sizes and any tubes that require cutting to a specific length, some prior notice is required, although small quantities of tubes can typically be cut to your specification while you wait.

Galvanised Scaffold Tubes
48.3mm O.D. steel tubes, galvanised to resist rust. Steel scaffolding tube is available in 4.0mm wall thickness and in higher density steel with a 3.2mm wall. BS EN39:2001.
Length
Weight
imperial measure
metric equivalent
4.0mm wall
3.2mm wall
5ft
1.5240m
6.72Kg
5.49Kg
6ft
1.8288m
8.07Kg
6.58Kg
8ft
2.4384m
10.75Kg
8.78Kg
10ft
3.0480m
13.44Kg
10.97Kg
13ft
3.9624m
17.47Kg
14.26Kg
16ft
4.8768m
21.51Kg
17.56Kg
21ft
6.4008m
28.23Kg
23.04Kg

Aluminium Scaffold Tubes
48.3mm O.D. aluminium tubes. The tube has a 4.47mm wall thickness. The standard length is 6.0m, but we can cut aluminium tube to specific sizes upon request. BS 1139.
Length
Weight
metric measure
imperial equivalent
4.47mm wall (0.176″)
6.0m
19.68504ft
9.18Kg

Other Diameter Steel Tubes
Non-scaffold galvanised steel tubes which are normally specified as a conduit for gas and water, but can be used with the corresponding sized key-clamps. EN 10255:2004 (BS1387). Size 4 is included for reference only and would instead be supplied as 48.3mm o.d. scaffold tube.
Size reference
Tube diameter (O/D)
Nominal bore
1
a
26.9mm
¾″
2
b
33.7mm
1″
3
c
42.4mm
1 ¼″
4
d
48.3mm
1 ½″
5
e
60.3mm
2″