Temporary Fence Panels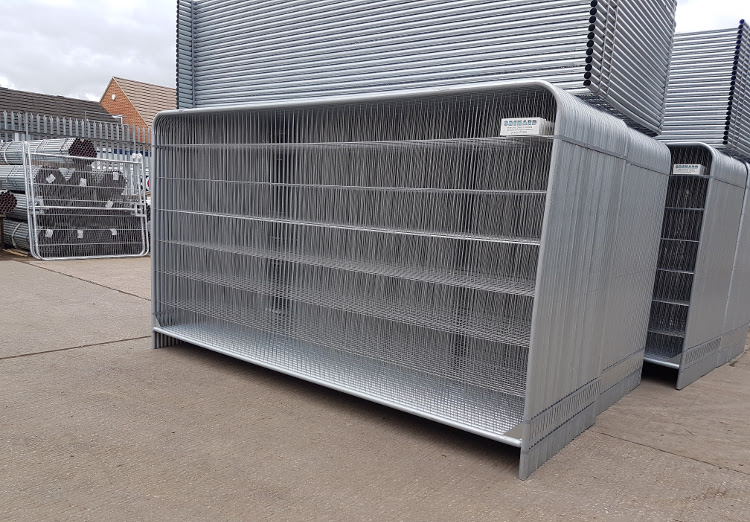 Orchard Hire and Sales is a stockist of temporary fence panels to buy or rent. We supply the strongest round-top wire-mesh fence panels with reinforced corners and Smartweld™ connections. They can be badged with your company logo. We also have pedestrian and vehicle gates, reinforcing stuts, recycled plastic blocks, and fence couplers available. Stillages for storing panels and blocks are made to order.
Other types of fencing and barriers we supply include hoarding panels made from sheet steel, steel crowd barriers, plastic road lane delineators, and plastic street-works barriers.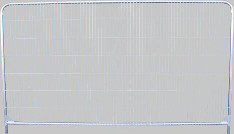 Round-top Temporary Fence Panel
Galvanised steel. 3.5m x 2m. Connects with parallel fencing couplers. Anti-climb 30cm vertical mesh aperture to GS7. Uprights supported by separate thermoplastic feet. Vehicle and pedestrian gates available. Can be supported with separate diagonal struts (not pictured).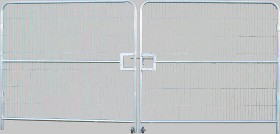 Temporary Fence Vehicle-Gate
Pair of temporary fence vehicle gates with padlockable latch closing. Galvanised steel. Total gateway width 4.2m. Connects with parallel fencing couplers. Outer feet sit in thermoplastic block. Inner feet have castor wheels.

Temporary Fence Foot
Provides a heavy stabilising base with six post holes to set temporary mesh fence panels or hoarding panels upright. Made of thermoplastic utilising recycled material.

Parallel Coupler
Zinc plated. Clamps the upright tubes of mesh fencing or hoarding panel together. Can be used singly or in pairs.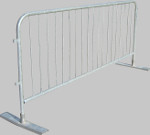 Temporary Pedestrian Barrier
2.5m x 1.1m connects without fittings. Lightweight steel. Feet detachable.

Traffic Lane Delineator
Interlocking plastic barriers made from recycled high density polythene (HDPE) in two parts. Top section is water-fillable, but the bottom section alone weighs enough to provide a sturdy base for the wall, which is an advantage where a source of water is not readily available. Can be arranged in a tight arc and on a gentle slope.
Height:
660mm
Length:
1000mm
Width:
520mm
Total Weight:
21kg
Weight of Base:
18kg
Colour:
Top: red, white and orange
Base: black
Plastic Pedestrian Barrier
Interlocking plastic barriers made from recycled high density polythene (HDPE). Designed to stack flat for storage and transport. Feet are detachable and replaceable. Suitable for cordoning off a temporary footway or as a temporary barrier where pedestrians may be present. They can be used to enclose small excavations, piles of building materials and spaces reserved for skips and work vehicles. The inter-connector has been designed to cope with slopes and kerbs. Complies with BS 7818 and the Department of Transport code of practice 'Safety at Streetworks and Roadworks'.
Height
1000mm
Length
2000mm
Weight
5kg
Total weight with normal feet
9kg
Total weight with ClearPath feet
11kg
Colour
Orange (standard), other colours on request.
Test and data
Avalon with standard feet: maximum wind speed achieved: 17 mph (27km/h)
Avalon with ClearPath Feet: maximum wind speed achieved: 20 mph (32km/h)
Mira Wind Tunnel Test 02.2009