Aluminium Scaffold Towers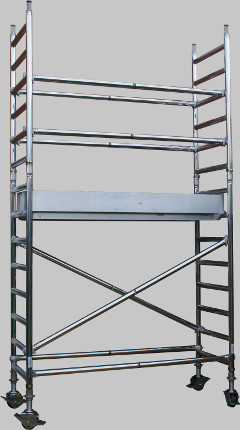 Aluminium Tower — Eurotowers 'Kliktower'

Orchard Hire & Sales is a distributor and hire centre for aluminium frame towers from British manufacturer Eurotowers®.
The Eurotowers® 232 Narrow Rung Tower is a light-weight but robust aluminium access tower that complies with European standard BS.EN. 1004 and is manufactured To a TUV certified ISO 9001:2008 quality control system.
The tower platforms are 0.7m wide, and either 2.0m, 2.5m, or 3.0m long. The platforms are accessed by climbing inside the tower up the frames and passing through trapdoors in the deck at each level. Spare parts and a repair service are available, giving you confidence in the after sales support.
For some tasks, light-weight aluminium frame towers represent a safer option than ladders and a convenient alternative to scaffolding, but they may not be as practical or safe as professionally erected scaffold in every circumstance.
Access-equipment industry-standard training courses are accredited by PASMA. Information is included in the attached guides that should be understood before attempting to assemble a scaffold tower. A diagram in each leaflet shows the steps to follow when erecting a tower in the manufacturer's approved manner.
single width tower guide
double width tower guide
Single Platform Width Scaffold Tower

Work Height (m)
2.85
3.31
3.88
4.34
4.81
5.27
5.73
6.20
6.66
7.13
7.59
8.05
8.52
8.98
9.45
9.91
Top of Tower (m)
2.18
2.64
3.10
3.57
4.04
4.50
4.96
5.43
5.90
6.40
6.82
7.30
7.75
8.22
8.68
9.14
Platform Height (m)
0.85
1.41
1.88
2.34
2.81
3.27
3.73
4.20
4.66
5.13
5.59
6.05
6.52
6.98
7.45
7.91
Parts List
Castor Wheel
4
4
4
4
4
4
4
4
4
4
4
4
4
4
4
4
Adjustable Leg
4
4
4
4
4
4
4
4
4
4
4
4
4
4
4
4
6 Rung Frame
4
2
4
2
4
2
4
2
8 Rung Frame
2
2
4
2
2
4
6
4
4
6
8
6
6
8
10 Rung Frame
2
2
2
2
Diagonal Brace
2
2
2
4
4
4
4
6
6
6
6
8
8
8
8
10
Horizontal Brace
6
6
6
6
6
10
10
10
10
14
14
14
14
14
18
18
Trapdoor Platform
1
1
1
2
2
2
2
2
2
3
3
3
3
3
4
4
Standard Stabilizer
4
4
4
4
4
4
4
Telescopic Stabilizer
4
4
4
4
4
4
4
Toeboard Assembly
1
1
1
1
1
1
1
1
1
1
1
1
1
1
1
1
Tower Weight (Kg)
2.0m Long
66
69
89
110
113
123
128
135
137
168
172
179
182
185
210
218
2.5m Long
75
78
98
123
126
138
142
150
153
188
193
201
203
206
237
244
3.0m Long
82
85
106
136
138
151
156
164
165
208
213
221
224
226
263
271
Double Platform Width Scaffold Tower

Work Height (m)
2.85
3.41
3.88
4.34
4.81
5.27
5.73
6.20
6.66
7.13
7.59
8.05
8.52
8.98
9.45
9.91
10.37
10.84
11.30
11.77
12.23
12.69
13.16
13.62
14.09
Top of Tower (m)
2.18
2.66
3.13
3.59
4.06
4.52
4.98
5.45
5.91
6.38
6.84
7.30
7.77
8.23
8.70
9.16
9.37
9.84
10.30
10.77
11.23
11.69
12.16
12.62
13.09
Platform Height (m)
0.85
1.41
1.88
2.34
2.81
3.27
3.73
4.20
4.66
5.13
5.59
6.05
6.52
6.98
7.45
7.91
8.37
8.84
9.30
9.77
10.23
10.69
11.16
11.62
12.09
Parts List

(8m platform or higher for indoor use only)

Castor Wheel
4
4
4
4
4
4
4
4
4
4
4
4
4
4
4
4
4
4
4
4
4
4
4
4
4
Adjustable Leg
4
4
4
4
4
4
4
4
4
4
4
4
4
4
4
4
4
4
4
4
4
4
4
4
4
6 Rung Frame
4
2
2
8 Rung Frame
2
2
4
2
4
6
4
2
8
6
4
2
8
6
4
2
8
6
4
10 Rung Frame
2
2
4
2
4
6
2
4
6
8
2
4
6
8
10
4
6
8
Diagonal Brace
2
2
2
4
4
6
6
8
8
10
10
12
12
14
14
16
16
18
18
20
20
22
22
24
24
Horizontal Brace
6
6
6
6
6
10
10
10
10
10
10
10
14
14
14
14
14
14
14
14
14
14
18
18
18
Plain Platform
1
1
1
1
1
1
1
1
1
1
1
1
1
1
1
1
1
1
1
1
1
1
1
1
1
Trapdoor Platform
1
1
1
1
1
2
2
2
2
2
2
2
3
3
3
3
3
3
3
3
3
3
4
4
4
Standard Stabilizer
4
4
4
4
4
4
Telescopic Stabilizer
4
4
4
4
4
4
4
4
4
4
4
Jumbo Stabilizer
4
4
4
4
Toeboard Assembly
1
1
1
1
1
1
1
1
1
1
1
1
1
1
1
1
1
1
1
1
1
1
1
1
1
Tower Weight (Kg)
2.0m Long
86
91
96
105
125
155
160
170
177
186
197
203
229
238
243
251
256
265
270
278
283
300
327
332
362
2.5m Long
99
104
109
118
139
174
179
189
194
203
214
223
255
265
269
278
283
293
298
307
311
329
361
370
375
3.0m Long
107
114
120
130
150
192
197
205
212
222
233
243
280
290
295
304
309
320
325
334
339
357
395
405
409