Scaffolders' Personal Protection Equipment
Personal protection equipment is essential for anybody working with scaffolding. There is every reason to work comfortably and at reduced risk of personal injury.

JSP EVO 3 Micro-Peak Safety Helmet
Tough HDPE shell to EN397. Comfortable 6-point terylene cradle harness system. Chamlon™ Sweatband (Cotton core with porous PU coating for sweat absorption. PH neutral, dermatologically tested). Easy adjustment and precise 3D fitting. One Touch™ slip ratchet. Slots for optional Surefit™ safety visors and ear defenders. Optional reflective strips to EN12899-1.

JSP EVO 8 Safety Helmet
The Evo 8 meets the far tougher new EN14052 standard for enhanced protection from above and also from side, front and rear impacts with its shock absorbing expanded polystyrene styrofoam liner. Comfort for the wearer has been improved, with a redesigned harness and terylene webbing that moulds around the head. The helmet has slots for Surefit™ safety visors and ear defenders.

JSP EVOSpec Eye Shield Attachment
Easy assembly kit for adding a clear, polycarbonate, retractable eyeshield to EVO3 and EVO8 helmets. Conforms to EN166.1.F

JSP Helmet Chin Strap
Wide elastic chinstrap with chin cup releases automatically with forces between 150 and 250 Newtons.

JSP Helmet Sweatband
For EVO® 2/3 & EVOLite® safety helmets. Egyptian cotton core with porous PU coating for maximum sweat absorption. PH neutral, dermatologically tested.

JSP Helmet Comforter
Full head comforter easily attached to the helmet harness for comfort and warmth. Available for MK7® / EVOLite™ / EVO2® / EVO3® / EVO8®

JSP High Visibility Neck Cape
The Hi-Visibility provides the wearer with protection from the elements. Firstly the neck cape offers UV50 protection from the suns ray when working in hot open environments. As well as providing protection from the sun the cape is also waterproof preventing liguids from entering the inside of clothing down the back of the neck. The neck cape is also great for keeping dust out.
JSP InterEXV Helmet Mounted Ear Defenders
International slot compatibility means the InterGP™ fits the complete range of JSP Safety Helmets, and are even compatible with the JSP Surefit™ visor system. Easy to attach and detach with spring loaded arms that give an excellent fit to the ear. The steel arms maintain a constant and even pressure, whether hot or cold conditions, no matter how long user wears the cups for. When not in use the arms allow the cups to stand off clearly from the head. Conforms to EN 352-3. • Universal Slot Compatibility - Fits the complete range of JSP Safety Helmets also compatible with the JSP Surefit™ Visor system for maximum protection. • Adjustable Steel Arms - The wearer can tilt and adjust the position of the cup for optimum comfort and fit, also offering even distribution of pressure. • Large Cups - The InterEXV™ feature large cups to provide protection for high levels of noise. • Comfort - Thick, wide and soft cushions provide comfort for prolonged use. • SNR = 28DB - For extreme protection.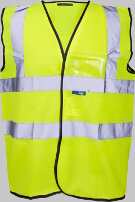 High Visibility Waistcoat
First line health and safety precaution on building sites. 2 band & brace. 100% polyester fabric. Velcro fastening. Sizes: L, XL. Conforms to EN 471 Class 2:2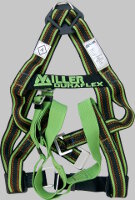 Miller Scaffolders' Harness
Miller Duraflex ® scaffolding harness with 'D' ring on the scaffolder's back for one point attachment and strong stretchable webbing. Also supplied as a kit with the lanyard or retractable fall-arrester below.

Miller Manyard
Elasticated shock absorbing lanyard that stretches to allow 2.0 metres of free movement from the point of attachment. The Teflon® coated webbing has a special woven shock-absorbing inner core and a tubular outer jacket that bunches up. When contracted, the risk of tripping or snagging is reduced. If the outer jacket becomes damaged or worn, the core becomes visible. After a fall, a warning flag deploys, providing visual proof to indicate that the lanyard should be removed from service. The Manyard has a karabiner that attaches to the D-ring of the harness and a safety clip that straps the hook end on to the harness when the lanyard isn't in use. Elasticity 32.8%. Length Folded 1.35m External highly resistant polyamide webbing 45mm. Breaking strength: > 2200 daN. EN 355,
Lanyard General Properties
Length
1.35m (contracted) to 2.0m (stretched)
Weight
0.985kg
Breaking Strength
15KN
Webbing
Width
45mm
Breaking Strength
2200 daN
Scaff Hook
Material
White chromate steel
Snap Hook Opening
65mm
Breaking Strength
>2200 daN
Standard
EN362
Screwgate Karabiner (Type CS20)
Material
Zinc-plated Steel
Karabiner Opening
18mm
Breaking Strength
>2500daN
Standard
EN362
Energy Absorber
Material
Polyester Fibres
Breaking Strength
>500 daN

Miller Scorpion PFL
Scaffolders' retractable fall-arrest block with 'scaff hook'. The quick locking mechanism arrests a fall within centimetres and its self-retracting mechanism eliminates the risk of tripping, while allowing the wearer to move freely over a range of 2.7m from the point of attachment to the scaffold. Can be directly connected to the harness D-ring and used like a traditional fall arrest lanyard. Extremely robust and lightweight, the Scorpion PFL features a fall indicator, corrosion-resistant internal parts, stainless steel and aluminium body and high impact polymer cover.
| | |
| --- | --- |
| Webbing | 27mm Polyester 1.5mm thick |
| Connector | Aluminium Scaff Hook, 63mm opening |
| Breaking Strength | > 2200 daN, Conform to EN 362 (04) |
| Snap Hook | Zinc-plated. 22mm opening |
| Length | 760mm |
| Width | 130mm |
| Thickness | 60mm |
| Weight | 2kg |

Nylon Gloves - Nitrile Palm
High dexterity. Good abrasion resistance. Washable. Open back for breathability. Applications: maintenance, warehousing, construction, fabrication, material handling, general plant use. 12 pairs per bag. 10 bags per box. Sizes: L, XL. EN 388 levels 4-1-2-2.

Knitted Rubber Palm Gloves
Mixed fibre glove. Latex palm coat. textured grip. Applications: General handling, disposal, construction, maintenance, gardening. Packaging: 12 pairs per bag - 10 bags per box. Sizes: L, XL. EN 388 levels 2-1-2-1

Lightweight Yellow Nitrile Fully-Dipped Gloves
Knitted wrist. Cotton support liner. Water-proof. Wet and dry grip. Open back for breathability. Good abrasion resistance. Packaging: 12 pairs per bag. 10 bags per box. Sizes: M, L, XL. EN 388 levels 3-1-2-1.

Heavyweight Blue Nitrile Palm Gloves
Heavy nitrile dip. Greater abrasion resistance. Safety cuff. Wet and dry grip. Applications: General handling, physical tasks, disposal. Packaging: 12 pairs per bag - 10 bags per case. Sizes: M, L, XL, 2XL. EN 388 levels 4-2-2-1