Scaffolding Gates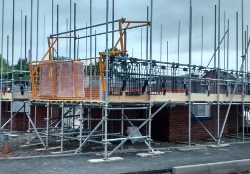 Gates on scaffolds are a mandatory safety feature that provide access to the working platform at the same time as edge protection to prevent falls from height by anyone on it.

Ladder Access Gates
Painted steel ladder gate incorporating drop forged single fittings for attachment to upright scaffold tube. Sprung closing mechanism with reversible direction of opening. Prevents falls from height in ladder access areas where guard-rails are absent.

Scaffold ladder-access trap-doors
Painted steel frame and mesh trap-door to prevent people falling through any gap created for a ladder coming up from the level below. The trap door can be fixed in an open, upright position with the drop-pin on the hooked toe-board bracket. The hinged section clamps to a scaffold toe-board with integral bolts that can be tightened with a scaffold spanner.

Loading-Bay Gate Arms
Yellow powder-coated tubular steel gate arm. Use in pairs to support aluminium or steel gate front. Integral scaffold fitting allows the gate to pivot around the centre. Requires one or two scaffold tubes and two or four double couplers to make up a complete gate.

Steel Loading-Bay Gate Fronts
Fixed width loading bay gate. Yellow powder-coat finish. Couplers are integrated into the gate front to attach the gate arms.